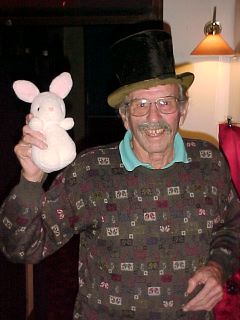 Graham Mickle was a leading light and leading man in Finley Amateur Dramatic Society since its inception in 1954.
In the society's first production in 1954 of 'Happiest Days of Your Life', Graham played a schoolboy and 40 years later when FADS represented the play as part of its 40th anniversary celebrations, Graham played the headmaster.
He also appeared in the second production of FADS, which was 'Arsenic and Old Lace', and then again when it was produced for the 21st anniversary in 1976.
Graham was also a member of the Finley Musical Society and appeared in many productions, including 'Kismet', 'Camelot', 'The Mikado' and 'Brigadoon'. His musical talent was very useful when FADS began to present theatre restaurant shows.
He was always ready with an encouraging word for the inexperienced thespian, or a dry quip to suit the occasion and was known for his creative ad-libbing when lines had been forgotten. Another of Graham's claims to fame was that he never missed a rehearsal!
Graham Mickle was president of FADS for many years and the only life member of the association.
Graham sadly passed away in October 2000. He was a true gentleman and will be sorely missed by all who were associated
with him in Finley Amateur Dramatic Society.